$35.00 USD
$22.75 USD
*VAT/Taxes not included.
Sale 35% off!!!
These zebra 2 presets were designed with intent to keep you in the "creative mindset." Even for people who don't like presets, we've used the X/Y performance tool to shape sounds so that you may achieve a more unique sound! There are 190 Zebra 2 presets in all.
"Sustenance" is a zebra 2 preset library. It's actually the best thing ever... in all of existence. It somehow even makes you more attractive and talented. Ok, just kidding. "Sustenance," is a Zebra 2 patch library though. If you like U-He Zebra2 // Dance Music // Hip Hop // R&B // EDM // Sound Design please keep reading. *You must own Zebra Soft Synth for this to work.
*Note - In demo above the same 8 bars plays switching to a different combination of Pad / Lead / Bass. Pads are sidechained.
Sustenance – Zebra 2 Presets at a glance:
43 Basses
73 Leads
51 Pads
23 Plucks
1 Kick Designer
Made with Zebra 2.7
Additional Waveforms
X/Y Pad assignments:
MOST presets have the X/Y pads assigned like so: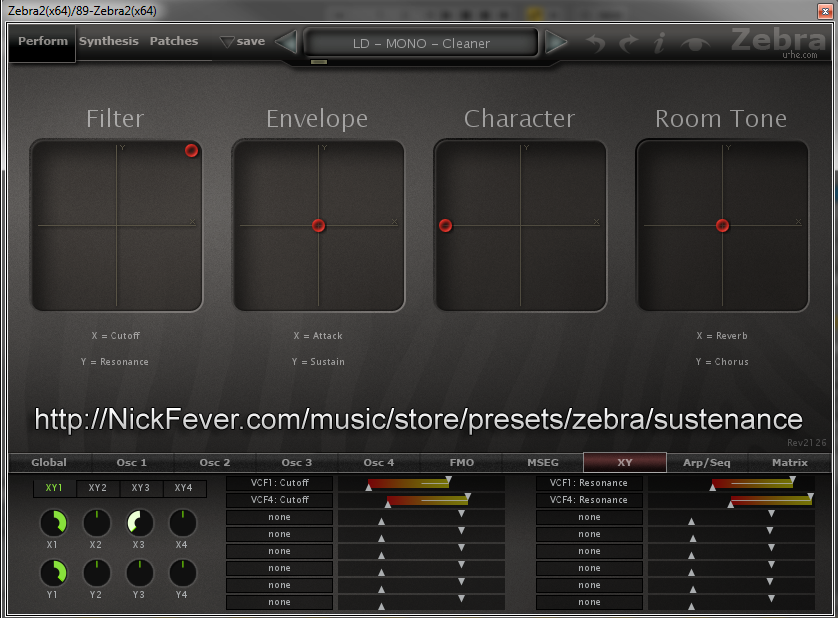 Pad 1 = Filter
Pad 2 = Envelope
Pad 3 = Character
X = Not telling – Part of the fun
Y = Not telling – Part of the fun
*Usually some combination of spectral effects and/or waveforms. I hope this is part of the fun in selecting // modifying // Discovering // automating sounds.
Pad 4 = Tone/Room Tone
X = Reverb
Y = Either Delay or Chorus
Zebra 2 Presets – Kick Designer
We've made a "Kick Designer." See the performance pads below.
Zebra 2 Presets – Naming Conventions
To help you find Patches faster the names are prepended to let you know if it's a bass, lead, or pad. It is also prepended to let you know if it's polyphonic or monophonic... In a rare case duophonic.
If you would like you can download a list of the file names.
Zebra 2 Presets – Wave Forms
But wait, there's more! ;)
Additionally we've included waveforms that we used to make some of the presets. Hopefully they can provide inspiration when tweaking or making your own presets.
Search Terms:
zebra 2 presets, zebra presets, zebra patches, zebra library, zebra 2 soundsets, zebra 2 sound sets, zebra 2 sound fonts, zebra 2 soundfonts