Beeper by Voxengo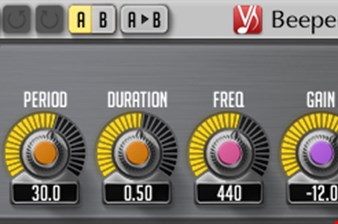 Voxengo / Beeper
Beeper
---
Beeper is an auxiliary audio processing AU and VST plugin which you can use to insert short beep, noise burst or silence signals to any sound material. This plugin may help you protect your work from theft. It is safe to apply this plugin to any mission-critical material because plugin does not perform any processing on the audio between the inserted signals.
You may specify signal's duration, beep frequency, signal's loudness, period between signals and the amount of random variation of all parameters.
---
Go to site
Beeper by Voxengo
Beep, noise or silence insertion
Parameter randomization
Stereo and multi-channel processing
Preset manager
Undo/redo history
A/B comparisons
Contextual hint messages
All sample rates support
Zero processing latency
Compatibility
This audio plugin can be loaded into any audio host application that conforms to the AudioUnit or VST plugin specification. Plugins with AAX version available can be loaded in ProTools 12+.
RTAS compatibility is available by using the FXpansion VST-RTAS adapter.
This plugin is compatible with Windows (32- and 64-bit Windows XP, Vista, 7, 8, 10 and later versions) and Mac OS X (10.7 and later versions, 32- and 64-bit, Intel processor-based) computers (2 GHz dual-core or faster processor with at least 2 GB of system RAM required). A separate binary distribution file is available for each target computer platform for each audio plugin specification.
Compatible Windows and Mac OS X software: Cubase, Logic Pro, Ableton Live, ProTools, Reaper, Cakewalk Sonar, Presonus Studio One, Nuendo, WaveLab, GarageBand, FL Studio, Sony Vegas, SoundForge, Adobe Audition, Samplitude, Digital Performer, Mixcraft, Bitwig Studio, Edius, others.
---