Blue Cat's Chorus by Blue Cat Audio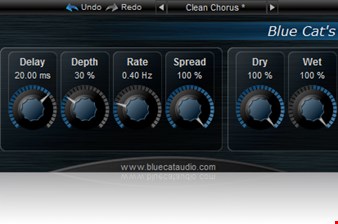 Blue Cat Audio / Blue Cat's Chorus
Blue Cat's Chorus
---
From a light ensemble to a deep destructive modulation effect, Blue Cat's Chorus can just do anything, for free!
The Chorus effect was originally designed to simulate several voices, just as if several persons were playing together the same notes, but with a variable delay between them. This is one of the typical effects that you can get with Blue Cat's Chorus.
But this plug-in also enables you to drastically change the original sound and create deep pitch modulation or crazy 'bubbling' effects.
With the additional "Spread" control on the stereo version, the famous stereo widening and head spinning chorus effects are a few click away.
---
Go to site
Blue Cat's Chorus by Blue Cat Audio
Main Features
Single voice vintage chorus effect.
Stereo spread control.
Sine or triangle LFO shapes.
In or out of phase mix control.
Blue Cat Audio Standards:
Available as: Mac-AAX, Mac-AU, Mac-RTAS, Mac-VST, Mac-VST3, Win-AAX, Win-DX, Win-RTAS, Win-VST, Win-VST3, Win x64-AAX, Win x64-DX, Win x64-VST, Win x64-VST3.
Native DSP code for optimal performance.
Full MIDI control and automation support with silent, zipper-free parameters update, advanced response control and MIDI Learn.
No CPU load on idle: when the plug-in is fed with silence, the processing smoothly shuts down, to optimize the CPU usage of your Digital Audio Workstation.
Customizable user interface with transparency management .
Smooth Bypass: activate/deactivate the plug-in with absolutely no noise.
Undo/Redo.
Full featured integrated presets manager.
Copy/paste the state of the plug-in between instances using the system clipboard.
Any sample rate supported.
---