bx_cleansweep V2 by BrainWorx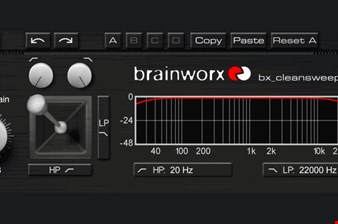 BrainWorx / bx_cleansweep V2
bx_cleansweep V2
---
This free plugin will be added to your account automatically when you join Plugin Alliance. If you already have an account you can download and start using this plugin today.
Ever wonder why there are Hi-Pass and Lo-Pass filters in every channel of the most expensive analog consoles, like SSLs and NEVEs? The reason is professional mixers rely on Hi-Pass and Lo-Pass filters to clean up the mud from the bottom and the grit from the high end, often as the first stage of the mixing process.
bx_cleansweep is the plugin that should go into every mix channel as the first plugin. This way you can filter out any unwanted hi-end and lo-end, and the result is a clean and tight mix.
---
Go to site
bx_cleansweep V2 by BrainWorx
Don't think that just because bx_cleansweep V2 is free it's not high quality. To the contrary, bx_cleansweep uses high quality Brainworx filters with "Anti Crush Technology," providing the same professional quality as its more famous big brothers like bx_digital V2.
Brainworx Anti-Crush technology uses analog style filter curves that eliminate common digital sound problems like harshness and aliasing. This advanced filter design is taken from their pro mastering EQ, bx_digital V2. First order filters (6 dB per octave) guarantee an extremely musical-sounding filter set, and a unique joystick interface (taken from the bx_hybrid) gives you fast and intuitive control.
Once you hear how great Brainworx filters sound, you might want to download the 14 day full function demos (no dongle required!) of Brainworx's more sophisticated EQ products like bx_hybrid EQ V2, the bx_dynEQ V2 or their flagship bx_digital V2.
FEATURES
Continuously variable high and low pass filters
Separate knobs for high and low frequencies
Joystick control simultaneously adjusts high and low pass frequencies
BRAINWORX critically acclaimed filters
Dedicated BYPASS switch in the plugin GUI
Clever shortcuts (Alt/Shift/Ctrl) allow for detailed control over the X-axis and Y-axis of the joystick,
EQ knobs can be set to precision mode by shift clicking.
"Mouse Over" feature: adjust the parameters by holding the mouse over any knob and simply turn your mouse wheel.
Direct access: just type in any valid number into the text fields for direct access to the exact value
Audio Examples
---