Fracture by GlitchMachines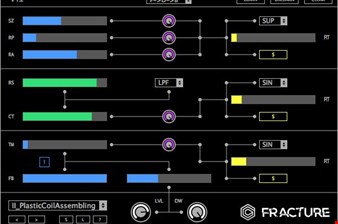 GlitchMachines / Fracture
Fracture
---
Fracture is a FREE buffer effect geared toward creating robotic artifacts and musical malfunctions.
Fracture is a versatile effects processor geared toward electronic musicians and sound designers. This plugin was designed to add glitchy articulations and abstract textures to your projects. Use it on anything from drums and percussion to synth lines and sound effects. Fracture's intuitive interface and diverse features make it simple to give your projects a unique technical edge.
---
Go to site
Fracture by GlitchMachines
Buffer, Delay & Filter FX
3 Flexible LFOs
Effects Chain Configuration
110 Factory Presets
PC/Mac – VST/AU 32bit & 64bit
Fracture features a buffer effect, a multimode filter, three LFOs and a delay. At the header of Fracture's interface, you will find a drop down menu which allows you to reconfigure the order of the effects in the chain. This is particularly useful since the order of the effects will significantly influence the final result of your patch.
If you're running low on inspiration, the randomize function will set all the parameters to random values, which can quickly yield interesting creative results. Assign Fracture's knobs and sliders to your favorite MIDI devices to gain real-time control, allowing you to perform complex passages of parameter modification.
---