Gain Suite by Blue Cat Audio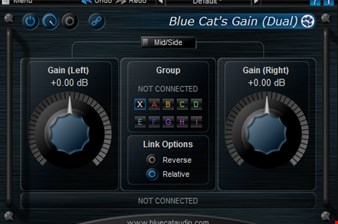 Blue Cat Audio / Gain Suite
Gain Suite
---
More than a gain plugin! Check out the grouping and link options!!!
This plug-in suite is a series of gain utilities which let you control the volume of one or several audio tracks in real time. The interest of these plug-ins resides in their particular features:
---
Go to site
Gain Suite by Blue Cat Audio
First, they include advanced automation MIDI control capabilities (all response curves can be fully customized). Used together with one of our analysis tools or a MIDI controller, these plug-ins let you remotely control and automate the gain of each channel of the audio signal, wherever they reside in the signal path.
Another interesting and exclusive feature is the ability to link several instances of the same plug-in: thanks to our unique data sharing technology, you can control the gain of several tracks at the same time with a single slider.
The package provides a single channel (mono or stereo) as well as a dual channel version with mid/side capabilities for independent control of the left and right or mid and side channels. It can be very useful for stereo widening/narrowing your stereo tracks.
---