Grooove BPB by Bruns and Spork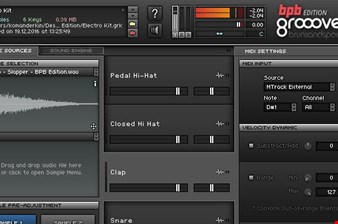 Bruns and Spork / Grooove BPB
Grooove BPB
---
BPB proudly presents Grooove BPB, a freeware drum sampler in VST2, VST3 and AU plugin formats for PC and Mac, crafted by brunsandspork. Grooove BPB is based on the full version of Grooove and is released as a Christmas gift for all BPB readers! Happy holidays! :)
---
Go to site
Grooove BPB by Bruns and Spork
Grooove BPB is a virtual drum sampler instrument, based on the excellent Grooove plugin by brunsandspork. This brilliant drum sampler puts an emphasis on playability and expressiveness, making sampled drums sound as dynamic and life-like as possible with easily accessible modulation controls.
This unique drum sampler features dual drum slots (6 in Grooove BPB, 128 in Grooove), each capable of holding two different drum samples simultaneously, with per-sample controls for volume, pan, pitch, sample start and length. Each drum slot also comes with a built-in LFO for modulating the filter cutoff and resonance, volume, pan, mix, pitch, sample delay, fade in/out, and sample start/end times.
All of these parameters can also be modulated via MIDI note velocity, which is the key to how Grooove makes sampled drums sound "alive". Simply add a bit of velocity modulation to your snare sample's filter cutoff and it will sound more muffled at lower velocities, just like a real drum!
Apart from functioning as a VST or AU plugin in all compatible host applications on Windows and Mac OS, Grooove BPB can also work in standalone mode with basic MIDI file loading capabilities. Both 32-bit and 64-bit systems are fully supported.
A huge THANK YOU goes to our friends at brunsandspork for making this happen. If you enjoy using Grooove BPB, definitely consider purchasing the commercial version of the instrument and unleashing its full power. Grooove is priced at $49 and contains 46 drum kits (770 drum samples in total) and 128 dual drum slots (instead of six in Grooove BPB), with zero limitations. It also features phase inverse, normalise and reverse effects, eight stereo outputs (instead of three in Grooove BPB), and several other improvements. For an in-depth comparison of the two versions, click here.
While you're here, make sure to also check out our other two freebie plugins – FilterCrusher and BPB Cassette Drums. Once again, happy holidays and thank you all for reading BPB!
I dislike this video. I don't see much value in it. It jumps around too much:
---