Hysteresis by GlitchMachines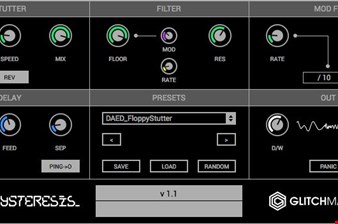 GlitchMachines / Hysteresis
Hysteresis
---
Hysteresis is a FREE glitch delay geared toward creating robotic artifacts and musical malfunctions.
Hysteresis is a versatile effects processor geared toward electronic musicians and sound designers. Process anything from drums to synths, guitars, vocals and sound effects. On top of being able to create contorted signal mutations, it can also be tamed to generate classic delay effects.
Our free downloads feature exclusive releases developed with the same uncompromising production values as our paid products. These critically acclaimed free plugins and packs have been featured on countless 'best-of' lists and are favorites among electronic musicians and sound designers.
---
Go to site
Hysteresis by GlitchMachines
Feedback-Based Delay
Stutter Effect
Lowpass Filter
Modulation FX
100+ Factory Presets
PC/Mac – VST/AU 32bit & 64bit
Hysteresis features a delay effect with stutter, lowpass filter and modulation effects thrown into the feedback signal path. The input signal first goes through a delay line on each stereo channel, but instead of sending the output directly back into the delay line, the resulting signal is sent to a stutter processor, then to a lowpass filter and finally to another delay line on the opposite channel which is modulated for creating chorus type effects. The output of the second delay line is then routed back to the first one on the original channel. The stutter effect can be used to generate reverse delays, noisy pitch-shifting or raw granulation. The lowpass filter has an internal LFO to make the cutoff frequency oscillate, and the modulation processor can act as a subtle chorus or noisy modulator depending on the range of the modulation rate.
---