Phaser by Blue Cat Audio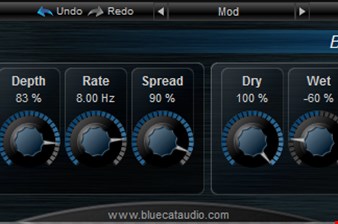 Blue Cat Audio / Phaser
Phaser
---
Modeled after vintage analog phaser circuits, Blue Cat's Phaser reproduces this old vintage phasing effect that you can find on so many recordings, but with the precision of modern digital processing techniques.
---
Go to site
Phaser by Blue Cat Audio
You can choose to apply up to 32 phasing stages, pushing the model to its limits, or create a subtle phasing effect with wet and feedback parameters set to a few percents.
You can also control the phase of the signal in the wet and feedback paths, which extends the possibilities of the original model.
On the stereo version, the additional "spread" control lets you obtain deep stereo widening phasing effects as well.
Main Features
Multi-stage analog-style phaser effect.
Up to 32 phasing stages.
Stereo spread control.
Sine or triangle LFO shapes.
In or out of phase feedforward and feedback paths.
Blue Cat Audio Standards:
Available as: Mac-AAX, Mac-AU, Mac-RTAS, Mac-VST, Mac-VST3, Win-AAX, Win-DX, Win-RTAS, Win-VST, Win-VST3, Win x64-AAX, Win x64-DX, Win x64-VST, Win x64-VST3.
Native DSP code for optimal performance.
Full MIDI control and automation support with silent, zipper-free parameters update, advanced response control and MIDI Learn.
No CPU load on idle: when the plug-in is fed with silence, the processing smoothly shuts down, to optimize the CPU usage of your Digital Audio Workstation.
Customizable user interface with transparency management .
Smooth Bypass: activate/deactivate the plug-in with absolutely no noise.
Undo/Redo.
Full featured integrated presets manager.
Copy/paste the state of the plug-in between instances using the system clipboard.
Any sample rate supported.
---