Recorder by Voxengo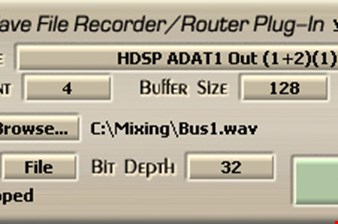 Voxengo / Recorder
Recorder
---
Recorder is an utility audio VST plugin which allows you to record the output of the channel or bus into the stereo WAV file of specified bit depth. Routing to MME (multimedia extensions) soundcard is also supported.
---
Go to site
Recorder by Voxengo
This audio plug-in can be loaded into any audio host application that conforms to the VST plugin specification.
This plug-in is compatible with Windows XP computers (2 GHz dual-core or faster processor with at least 1 GB of system RAM recommended). Note that this plug-in may not work correctly on the latest Windows versions that expose more than 2 GB of available memory to the host audio application. Otherwise it is suggested to run this plug-in by bridging (for example, by using jBridge). Also note that this plug-in may not work correctly with some 64-bit host audio applications via bridging.
Compatible Windows and Mac OS X software: Cubase, Logic Pro, Ableton Live, ProTools, Reaper, Cakewalk Sonar, Presonus Studio One, Nuendo, WaveLab, GarageBand, FL Studio, Sony Vegas, SoundForge, Adobe Audition, Samplitude, Digital Performer, Mixcraft, Bitwig Studio, Edius, others.
---