REGRESSIF by Inear Display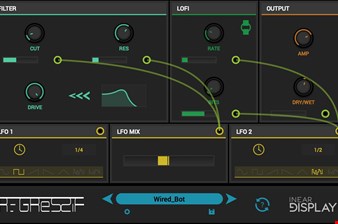 Inear Display / REGRESSIF
REGRESSIF
---
Regressif is an audio plugin focused on sound degradation. Combining a multimode filter with distortion, samplerate reduction and bitcrushing effects, it can turn the most innocent sound into a wall of digital noise. Two LFO modules and an additional LFO mixer can then be brought into the mix to further mutilate your audio.
---
Go to site
REGRESSIF by Inear Display
These functions are wrapped in a clean and easy to use interface : each module is clearly delimited and color coded, and the modulations can be assigned simply by dragging nodes. This playful interface allows to quickly create new patches or tweak one of the built-in presets. And if the supplied presets are not enough, Regressif also packs a randomizer for instant inspiration.
DEGRADE
Shape the incoming audio with the Multimode Filter and the Digital Distortion.
Turn the resulting signal into digital noise by combining Samplerate Reduction and Bit Crushing in creative ways.
MODULATE
Use the 3 included modulators to add even more chaos.
Patch modulations in an intuitive way by dragging nodes.

Features

-

Analog Style Filter
4 Filter Types : Lowpass, Highpass, Bandpass, Notch
Digital Distortion (pre or post Filter)
Samplerate Reduction
Bit Crusher
3 Routing Options for the LoFi Module Effects : Chain, Parallel, Ringmod
Processed signal Amplitude control
Dry/Wet Control
2 LFO Modules
7 Classic Shapes for the LFO Modules
Optional Host Clock Sync for the LFO Modules
LFO Mixer to combine the 2 LFO Modules
Intuitive Modulation Routing Paradigm using Patch Chords
Randomizer
40 factory presets
Clean Color Coded Interface
Define a custom startup patch
Cross-Platform presets
---