Sound Delay by Voxengo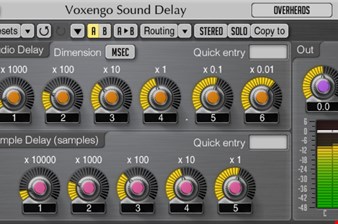 Voxengo / Sound Delay
Sound Delay
---
Sound Delay is an auxiliary multi-channel signal delaying AAX, AU and VST plugin for professional audio applications. You may specify delay time in both milliseconds and samples, with a high level of precision. This plugin – being technical in its purpose – provides a basic signal delaying function only, without signal feedback or modulation capabilities.
Sound Delay also features internal mid/side encoding and decoding, and allows you to delay mid and side channels independently.
---
Go to site
Sound Delay by Voxengo
Sample-accurate delaying
Millisecond-accurate delaying
Up to 3 seconds overall delay
Stereo and multi-channel processing
Internal channel routing
Channel grouping
Mid/side processing
Preset manager
Undo/redo history
A/B comparisons
Contextual hint messages
All sample rates support
Compatibility
This audio plugin can be loaded into any audio host application that conforms to the AudioUnit or VST plugin specification. Plugins with AAX version available can be loaded in ProTools 12+.
RTAS compatibility is available by using the FXpansion VST-RTAS adapter.
This plugin is compatible with Windows (32- and 64-bit Windows XP, Vista, 7, 8, 10 and later versions) and Mac OS X (10.7 and later versions, 32- and 64-bit, Intel processor-based) computers (2 GHz dual-core or faster processor with at least 2 GB of system RAM required). A separate binary distribution file is available for each target computer platform for each audio plugin specification.
Compatible Windows and Mac OS X software: Cubase, Logic Pro, Ableton Live, ProTools, Reaper, Cakewalk Sonar, Presonus Studio One, Nuendo, WaveLab, GarageBand, FL Studio, Sony Vegas, SoundForge, Adobe Audition, Samplitude, Digital Performer, Mixcraft, Bitwig Studio, Edius, others.
---