Teufelsberg Reverb by BalanceMastering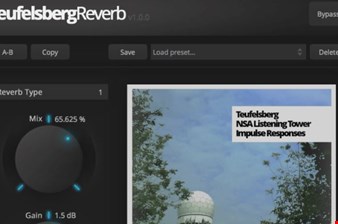 BalanceMastering / Teufelsberg Reverb
Teufelsberg Reverb
---
A free Reverb! A free Impulse Response Reverb!!
---
Go to site
Teufelsberg Reverb by BalanceMastering
Features
Lush reverbs, accurately captured at the infamous Berlin surveillance tower.
6 different IR reverb sounds.
Fast, zero-latency convolution.
A/B compare and preset saving functions
Linux, Windows & Mac downloads.
Free and open source.
Sound demo
Track: 'As Viagens de Hermacia' taken from 'Sentinelas' by t-woc
---