Triple Cheese by U-he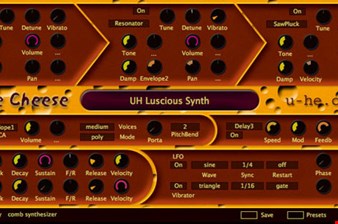 U-he / Triple Cheese
Triple Cheese
---
Winner of the 2006 KVR Developer Challenge, Triple Cheese is a unique-sounding freeware synthesizer plugin. Triple Cheese doesn't use any of the classic synthesis techniques – substractive, FM or additive – but various forms of comb filter i.e. very short chromatically tuned delays. The three cheese modules in a row either generate their own signal, or process the output of the previous module.

Update Oct 2015: TripleCheese V1.2.1 (rev 3898) adds AAX support, fixes minor bugs
---
Go to site
Triple Cheese by U-he
Sound generation
Triple Cheese avoids classic synthesis techniques—no subtractive, frequency modulation (FM) or additive synthesis. Rather, it employs various types of comb filter, often in series, to generate and modify sound. Think of the comb filters as very short chromatically tuned delays. Three modules are arranged in series and either generate their own sound, or process the output of the previous module.
The features for each module can result in sounds that might seem a little "cheesy" or retro (think early 1980s digital synths). But when pushed, you will find Triple Cheese creates some surprisingly lush sounds.
Sound generating comb filter modules
Extra cheese
For extra flavour, Triple Cheese comes with a choice of delay-based effects. Although basic, the essentials are covered: chorus, flanger, phaser, delay, or reverb. A special LFO with speed and depth controls can be used to give your sound extra movement and warmth.
Another way to add flavour: parameter modulation. Many of the key parameters in Triple Cheese can be modulated from a variety of sources: Select one of the classic performance controls (modwheel, velocity, pressure, key follow etc.) or an automatic modulation source (envelope, LFO or Vibrator).
"Alles in allem ein herrlich cheesy klingender Synth, der aber auch pikante Geschmacksrichtungen bietet!"
bondeo
month 2009
winner kvr developer challenge
2006
---