VintageMeter by PSPaudioware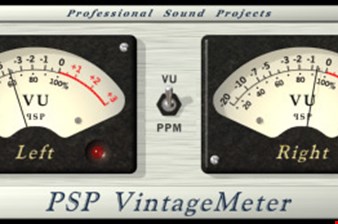 PSPaudioware / VintageMeter
VintageMeter
---
The PSP VintageMeter is a measurement plug-in. It provides professional VU and PPM metering with accurate overload indicators. All parameters like integration times and reference levels are widely adjustable to make this plug-in suitable for any particular application.
---
Go to site
VintageMeter by PSPaudioware
Front Panel Controls
PSP VintageMeter's front panel has been designed to provide only essential user interface features including displays and VU-PPM swith.
VU Meters
PSP VintageMeter's analog-style meters indicate VU levels. Normally the meter scale ranges from -20 to +3 however this can be switched to a wider mode (-40 to +6). The meters have an adjustable integration time (300ms by default), which gives standard analog VU needle ballistics. By default, the 0VU reading refers to a - 14dBFS sine wave, however this can be adjusted. Use the back panel to change the integration time or reference level.
The meters can also be switched to PPM (Pseudo Peak) mode with adjustable attack and release integration times.
The meters contain overload LEDs which, by default, react to three or more overloads. The overload counter can be adjusted on VintageMeter's back panel. After an overload occurs, the LED fades out, however it remains a dark red color. This indicates that an overload has occurred. Click on the LED to reset it.
VU-PPM Switch
The VU-PPM switch enables changing meters' operation characteristics between VU and Pseudo Peak Metering. See Back Panel Controls for details.
Back Panel Controls
Clicking on the VintageMeter's name opens the Back Panel window with its preferences settings which allow you to adjust the behavior of the meters. Almost all setting are stored when the plug-in is closed and they are recovered whenever a new plug-in's instance is opened. The only setting stored with a project is a meter delay time because it may vary from project to another. To return to the front panel, click on the about box.
[VU Integr, Time]
The VU Integration Time knob sets the ballistics of the meter's VU needles. The default value is 300ms.
[0VU Reference Level]
The 0VU Reference Level knob sets the sine wave reference level. The default value is -14dBFS.
[PPM integration time]
The PPM integration time knob sets the attack ballistics for the PPM meters. The default value is 10ms.
[PPM return time]
The PPM return time knob sets the return ballistics for the PPM meters.
[Meter delay]
The Meter delay knob is used to compensate for output latency. The default value is Auto.
[Overs counter]
The Overload counter knob sets the number of overloaded samples which makes the overload LEDs light. The default value is 3 samples.
Compatibility PSP VintageMeter is compatible with applications that can host standard VST, DX and MAS plug-ins. The product has been tested in the following applications: PC • Cubase • Nuendo • Cubasis VST • WaveLab • Logic • PARIS • n-Track Studio • Orion • Fruity loops • Cool Edit • Sonar • Sound Forge MAC • Cubase • Cubasis VST • Logic • sonicWORX • Spark • Peak • Digital Performer • AudioDesk If your host application is not listed above we strongly recommend that you install and test the demo versions of our plug-ins for compatibility before purchase. We would also appreciate it if you could provide us with information about your configuration so that we can test it ourselves ([email protected]). Minimum System Requirements • Windows 95 • 64 MB RAM • Pentium 200 MHz • High Colour S-VGA 1024x768 • MacOS 8.5 • 64 MB RAM • G3 300 Mhz • High Colour S-VGA 1024x768
---